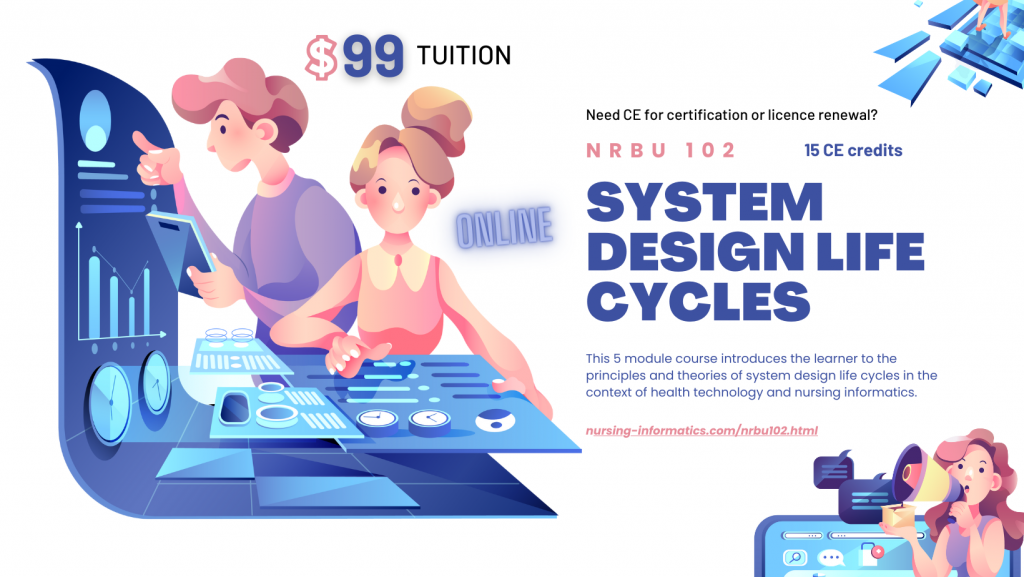 If you want to learn more about the ins and outs of system design in healthcare, consider taking our online course NRBU 102: System Design Life Cycles.
This 5 module (15 CE credit) course introduces the learner to the principles and theories of system design life cycles in the context of health technology and nursing informatics. System theory is a strong component of any nursing informatics program or certification examination.
The course is assessed using practical applications of principles and theory and an exploration of system design in health care settings. Throughout the course, nurses are encouraged to explore and assess various system design life cycle models to develop a wide lens understanding of theories and practicalities for practice settings.
This course is personalized, self-paced and taken entirely online in the privacy and comfort of your own home or office.
Objectives
This course is intended to provide the learner with the opportunity to:
Examine key principles of System Development Life Cycle theories and models.
Analyze theory and research related to systems design in the context of clinical applications.
Discuss how nurses can support system design to strengthen informatics projects.
Apply principles of system design to improve own practice.
Analyze how system design fits into nursing informatics theory and practice.
Certificate
Upon completion, learners will receive a Board Approved Certificate of Completion for 15 CE credits in digital format.
Registration
Tuition is only $99 USD. Right now, during our sale you can take the course for only $59.40.
More information: https://nursing-informatics.com/nrbu102.html
Register Now: https://nursing-informatics.com/store/index.php?route=product/product&product_id=57