One Nurse's Attempt to Promote the Field!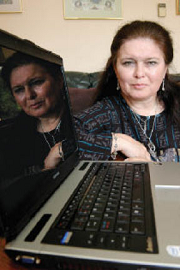 June Kaminski, RN MSN PhD(c) began her education in Nursing Informatics through various upper level and graduate courses in Computer Programming and Applications in Education. These were done as a minor to her Masters of Science in Nursing at the University of BC from 1987 to 1991. In 1986 she served as the Medical - Surgical ward trainer for nurses being orientated to the new Hospital Information System at a Vancouver hospital where she worked as a staff nurse. Helping nurses learn to integrate computer use into their nursing practice became a fascination of June's which she has continued to indulge over the past thirty years.
In 1990, June received faculty release time to redevelop Nursing 200: Computers in Nursing for the Diploma Nursing Program at Kwantlen Polytechnic University in Western Canada. Careful attention was taken to integrate Nursing Informatics theory and provide hands-on training in computer applications such as word processing, graphics, use of Computer Assisted Instruction and Hospital Information systems
Later in 1996, when the BSN program was adopted at Kwantlen, June independently developed integrated learning activities for Nursing Informatics for every nursing course in the program. In the fall of 1999, a web-based program of study was introduced in addition to the paper manual approach, to encourage self-directed study for students to access lessons both within the classroom and on personal computers on campus, in libraries, or at home. The Nursing Informatics theory component was expanded to reflect current research and application. Computer application instruction was also expanded to incorporate emerging internet and utility applications such as spreadsheets, databases, web page development, chatrooms, email, multimedia, telenursing, electronic literature searches, videoconferencing, and so on.
June is currently the Program and Curriculum Chair for the BSN Advanced Entry program at Kwantlen, a hybrid nursing program that consists of mostly online courses supplemented with three practice residencies and capstone courses. Nursing informatics and interactive, creative technologies have been artfully woven into the curriculum to prepare nurses in the necessary conpetencies for effective practice. June also became a Research Coordinator with Arthritis Research Canada in 2016, focused on working with First Nations communities.
June is finishing PhD study at the University of British Columbia in Curriculum and Pedagogy Studies. Her focus is educational technology, informatics, aesthetics and distance education for nursing. Currently, she is completing her PhD dissertation work on investigating faculty perceptions of how nursing informatics fits into nursing education.
Professional Initiatives
In 2003, June was elected Director of Communications for the Canadian Nursing Informatics Association (CNIA) and stayed in the position until 2012. She enjoyed working with this dedicated group of informatics leaders, determined to make the organization the national voice for nursing informatics. June accepted the position of President-Elect for the Canadian Nursing Informatics Association (CNIA) in mid 2005. She became the President of CNIA in 2008 and Past President in 2010.
In 2003, she became the Editor in Charge of Virtual Nursing Practice and Culture for the Online Journal of Nursing Informatics (OJNI) and is now Editor in Chief. She accepted the position of Vice President for Sigma Theta Tau, Xi Eta Chapter in 2007 and was Past-President and Director (UBC), (2014-16), President (2013-14), Vice-President and Global Health/Research Committee Chair, (2007 – 2016). She is currently President-Elect, Treasurer and Webmaster. In 2020, June joined the Sigma Theta Tau Nursing Informatics Community as a facilitator. She is also a member of HIMSS and the National Institutes of Health Informatics. As well, she is the Treasurer and webmaster of the Canadian Association of Nurses for the Environment , an associate group of the Canadian Nurses Association.
In 2006, June spearheaded, designed and launched the Canadian Journal of Nursing Informatics and recruited the Editorial Board and other practicalities. The mission of The Canadian Journal of Nursing Informatics is to provide a peer-reviewed venue for Canadian (and international) nurses and researchers who work with Nursing Informatics to disseminate their research, essays, reviews, presentations, multimedia and other digital publishable materials on a global scale. She also works as a consultant with various US and Canadian Universities and institutions to develop online curriculum related to nursing informatics or educational technology.
eHealth Award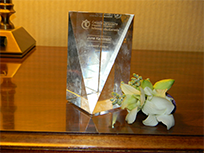 In November 2012, June was honored to receive the Canadian Association of Schools of Nursing (CASN) and Canada Health Infoway's inaugural Nursing Faculty E-Health Award 2012 in Ottawa Canada. This award competition was aimed at supporting nursing school faculty who demonstrate exceptional leadership and commitment to e-health in nursing education. This award is a component of Canada Health Infoway's Clinicians-in-Training Initiative, aimed at improving the preparedness of graduates to work in a technology-enabled environment.
Distinguished Teaching Award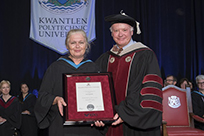 Kwantlen Polytechnic University (KPU) nursing faculty member, June Kaminski, has been chosen as the recipient of the Distinguished Teaching Award for 2016. This prestigious award was presented by the President during spring convocation at KPU on June 3, 2016. June Kaminski, a nursing instructor in the Faculty of Health, has been a faculty member at KPU for more than 25 years. Author of two books and many academic papers, June is an award-winning instructor whose focus on teaching the very latest in professional standards and dedication to students are unmatched.
Facebook Highlights
Point to Ponder
"One question that arises is, do nurses control these benign information technology tools, or do the "tools" shape the activities, decisions, and attention of the nurses as users of technology?" - June Kaminski, 2007
<