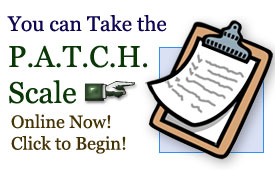 P.A.T.C.H. Assessment Scale v. 3
Pretest for Attitudes Toward Computers in Healthcare
© June Kaminski 1996 - 2023
I created the first version of the P.A.T.C.H. (Pretest for Attitudes Toward Computers in Healthcare) in 1996 to help my students explore their feelings about learning to use computers both in education and healthcare. Further revisions occurred in 2007, which culminated in the second version. The third version debuted in 2011 to include statements related to social media, ehealth, electronic health records, and mobile technology. It also streamlined the scoring process. This scale focuses on attitudes and feelings about using computers in the practice setting. You may download a pdf copy to print and complete by hand in the Competencies Plan section below.
Or, you can click on the right image to securely complete and score the assessment scale online. Just complete the simple registration to access the online scale. You will receive an email with your final score certicate (or you can download it from the assessment space once done). Complare your final score to the scale interpretations (you can also download this at bottom of page as part of the pdf version of the Scale and the Personal Plan).
New PATCH Interface
in 2019, I launched a brand new, easier to use interface for your enjoyment. This scale is used by countless faculty across the world who assign the scale to their nursing and health discipline students. These changes will assist these students to register and show proof that they completed the assignment. The scale is also used by a growing number of graduate student and nurse researchers. Again, these changes will facilitate this work. Finally, the changes will support any nurse who wants to explore their own attitudes towards using technology in their practice. This interface facilitates the following changes:
This new interface requires a simple registration (your name and email) instead of creating a whole account
You can now save your work as you progress through the 50 item scale and return to complete it later if need be.
You can download your score and results. These will also be emailed to you.
You can also download a certificate that tells you what your score is – as well, this will be emailed to you.
You can then instantly compare your score to the scale interpretation chart.
Application
Over the years, the P.A.T.C.H. Scale has been used quite consistently by various educators from around the globe (i.e. USA, Canada. Philippines, Jamaica, China, and Turkey) to test their Nursing student's attitudes towards computers in health care. Nurse administrators and clinicians have used it with various groups of nurses working in hospitals, community health centers, schools, and home health. It has also been used in several graduate students' thesis and dissertation work and by other nurse researchers. Some published highlights are listed below. If you would like to use the P.A.T.C.H. Scale in your research, writing, or curriculum materials, please contact me for written permission, and cite the Scale appropriately in your work.
Various International Work that Includes the P.A.T.C.H. Scale
Competencies Plan
As a nurse interested in Nursing Informatics skills, you have an unique set of related strengths, knowledge and learning needs. An initial learning plan is offered here to help you to begin to plan your personal development in computer literacy, information literacy and informatics theory and practice. Once you have identified your preliminary learning needs, you can plan strategies for equipping yourself with the theory and hands-on skills you need to be proficient in the various aspects of informatics.
This plan is available in PDF so you can download a copy, print and write in your responses right into it. Be sure to save a copy for your personal records! Also remember to notice your final score to compare it to the scale interpretations (download at bottom of page this is part of the pdf version of the Scale and the Personal Plan).

Download Your
Personal Plan & Printable
P.A.T.C.H. Scale Here!

If you do not have
Adobe Reader on your computer,
download a copy
Here!
Self-Assessment Menu
Facebook Highlight