NRED 103:
Nursing Informatics in the Classroom

Overview

This 13 module (39 credit) course introduces nursing educators, scholars, leaders, and students to the theory, application, technical skills and process of integrating nursing informatics into nursing education and practice. Learners will create lessons, portfolios, documents, assignments and learning plans which integrate nursing informatics theory and skills into both the content and the mode of learning (whether linguistic, visual, kinesthetic, spatial, and so on). This course entails 39 instruction hours, equivalent in length to a standard 3 credit college course. This course is personalized, self-paced and taken entirely online in the privacy and comfort of your own home or office. You will receive one to one interaction with your instructor and your modes of assessment and study will be fine-tuned to suit your personal learning styles, preferences and needs.
Practice includes learning how to customize the online environment to teach a selected nursing topic. The principles of learning styles, adult learning, virtual pedagogy, e-learning, lesson plans, portfolio development, document sharing, assignment and test development will be incorporated and applied to the customization of the online learning environment within a select course management system interface.
Objectives
This course is intended to provide the learner with the opportunity to:
Understand and apply theory related to virtual education, virtual pedagogy, learning styles, portfolio development, adult learning, lesson planning, human-computer interfaces, collaborative interaction, and critical reflection.



Explore the dynamics of planning lessons, portfolio development, online teaching and assessment within a customized online learning environment for nursing.



Apply principles of critical reflection, collaborative activities, online teaching and learning within a customized online learning environment.



Customize an online course management system to facilitate selected nursing education environment development.



Practice lesson planning, assignment planning and execution, application of learning styles to content development



Explore the use of online learning environments for instruction, critical reflection, decision making, collaborative projects, and networking



Plan and customize an online nursing education environment within a course management system



Apply, engage in and assess the utility of this online nursing education environment
Assessment
Learners will be assessed using the following suggested methods (both self and instructor evaluation, customizable):
Short Answer Journals and Worksheets: 20%
Customized Nursing Education Environment Plan: 10%
Customized Nursing Education Environment Design: 35%
Customized Nursing Education Environment Analysis: 25%
Certificate
Upon completion, learners will receive a Board Approved Certificate of Completion for a 39 hour course in digital format.
Registration
Tuition is only $199. Once registered in our secure commerce area you can select the course and pay using PayPal (to process your credit card, bank withdrawal or e-check payment), Company/Institutional Check or Money Order to register for the course. Please note, if you elect to pay using e-check, check or money order, there will be a waiting period before enrollment, until the payment has cleared. Once registered, you will be manually enrolled to access the course within the course area, and your user name and password will be emailed to you. You can register at any time, since this is a 1 to 1 course and is done at your own pace. Click button to enroll in NRED 103 now!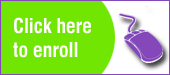 Course Modules
MODULE ONE: Technology and the Curriculum: Customizing the "Fit"


MODULE TWO: Planning Informatics Theory and Practice Components within the Learning Environment


MODULE THREE: Leveling Informatics Theory and Practice Experiences across the Curriculum


MODULE FOUR:Selecting Theory & Practice Lesson Topics across the Curriculum


MODULE FIVE: Setting Objectives and Preparation Expectations within the Learning Environment


MODULE SIX: Classroom and On-line Activities for Theory and Practice


MODULE SEVEN: Appealing to Multiple Learning Styles in mixed Learning Settings


MODULE EIGHT: Planning the Delivery of Integrative Content


MODULE NINE: The Issue of Faculty Preparedness


MODULE TEN: Integrated On-line Delivery and Planning


MODULE ELEVEN: Practical Set-up of Planned Curriculum in the Virtual Setting: Part 1


MODULE TWELVE: Practical Set-up of Planned Curriculum in the Virtual Setting: Part 2


MODULE THIRTEEN: Practical Set-up of Planned Curriculum in the Virtual Setting: Part 3