by June Kaminski, RN MSN PhD(c), OJNI Editor in Chief
February 06, 2019

The HIMSS19 Global Conference & Exhibition is just around the corner (February 11-15 in beautiful Orlando, Florida), and the OJNI is thrilled to be launching our first issue of 2019 in tandem with this popular and cutting-edge conference! HIMSS is deliberately aligning the publication of this issue with the launch of HIMSS19, which helps all of us at OJNI to feel acknowledged and supported. We are now in our 23rd year of online publication in the wonderful and continually evolving world of nursing and health informatics. We are all thrilled that the journal is still going strong after all of these years. We have been honored to witness the progressive evolution of informatics since we first launched the journal in the late 1990's and hope to continue well into the future.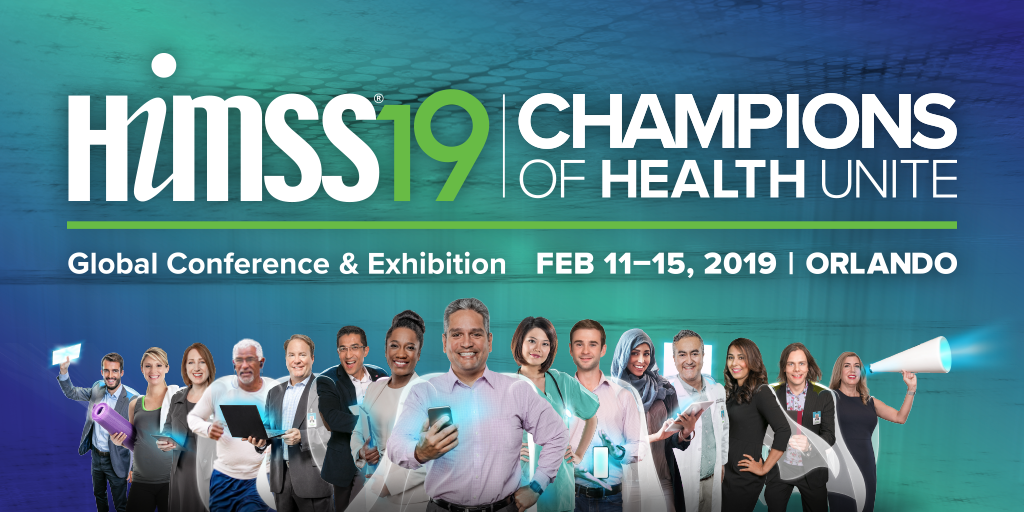 The theme of HIMSS19 is Champions of Health-Unite! We also support this call for action to all nurses, whether full-fledged nursing informatics specialists, or general nurses who daily enact the system end-user experience through direct patient care. We appreciate the scope of the various interdisciplinary roles targeted in this theme –bringing vendors together with users; designers and creators together with analysts and planners; and celebrating each one's dedication to improving informatics and health information systems for all.
What does it mean to be a champion? There are several definitions, but ones that are relevant to the informatics context include this definition from the Cambridge dictionary: "a person who enthusiastically supports, defends, or fights for a person, belief, right, or principle" (n.d., p.1). The Business Dictionary (n.d.) elaborates with this definition: "A person who voluntarily takes extraordinary interest in the adoption, implementation, and success of a cause, policy, program, project, or product. He or she will typically try to force the idea through entrenched internal resistance to change and will evangelize it throughout the organization. Also called change advocate, change agent, or idea champion" (p.1). These definitions bring up images of action, purpose, stamina, endurance, dedication, vision, advocacy, and enthusiasm.
As the organizers of HIMSS19 so eloquently wrote: "HIMSS celebrates our champions of health – people like you who are committed to transforming health and well-being around the world through information and technology.
Our champions of health come from across the healthcare continuum – in the form of physicians, nurses, senior executives, patient advocates, innovators and entrepreneurs, programmers, educators, investors, compliance officers, pharmacists, students, government employees, hospitalists and so many more…" (HIMSS19, 2018a, p.1).
HIMSS (2018b) goes further to ask you what type of champion are you? Are you a Communicator? A Developer? A Disruptor? How about an Explorer? Or maybe a Game-Changer? Or perhaps a Healer, an Influencer or an Innovator? A Researcher? Strategizer? Trailblazer? How about a Transformer or Visualizer? Or maybe you are a bit of two or more of these?
Where do you stand in this champion continuum? Whether you are excited because you are attending HIMSS19 and can drink in all of this amazing energy, or just reading about it, with thoughts about the topic stimulating your imagination – why not join us in this wonderful journey? We can all work in unison shaping the face of informatics for today and tomorrow – as champions, as colleagues, and as co-creators. Think #HIMSS19….Think #Champions-Unite!
References
Business Dictionary. (n.d.) Definition of champion. Retrieved from http://www.businessdictionary.com/definition/champion.html
Cambridge Dictionary. (n.d.) Definition of champion. Retrieved from https://dictionary.cambridge.org/dictionary/english/champion
HIMSS19. (2018a). What Makes a Champion of Health? Retrieved from https://www.himssconference.org/updates/what-makes-champion-health
HIMSS19. (201b). Which champion of health are you? Retrieved from https://www.himssconference.org/attend/which-champion-are-you
Citation:
Kaminski, J. (Winter 2019). Joining the call for Champions of Health-Unite! Online Journal of Nursing Informatics (OJNI), 23(1). Available at https://www.himss.org/library/joining-call-champions-health-unite