by June Kaminski, RN MSN PhD(c)
Editor in Chief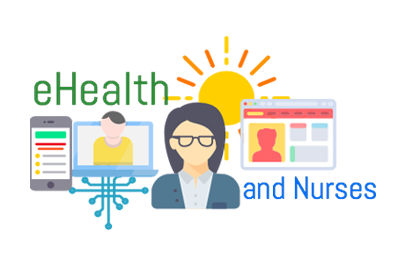 eHealth is a quickly growing medium for health care practice that can be used in diverse settings, to support holistic and person-centred health care. Broadly speaking, eHealth is any use of information and communication technology (ICT) to augment health care or promote health. This includes (but is not limited to) using the Internet to book appointments with a doctor, nurse practitioner, dietician, or lab; accessing one's own lab, radiology, or pharmacy records via electronic health records (EHR); engaging in one-to-one eTherapy counseling, telehealth assessments; and participating in ICT based support groups for people living with chronic illnesses. The masses of data and information afforded by eHealth technologies are often viewed as an integral part of the Canadian (and other nations') health care infrastructure. The crux of eHealth is that it facilitates partnerships with people as they engage with the health care system. It also shifts the onus to each individual person to access tools that support health literacy, self-management, healthy lifestyles, and self-monitoring through various devices.
It is theoretically possible, if the technology used is sophisticated enough to provide clear, crisp visuals, real-time relay, exceptional audio, and accurate physiological measurement, that can be used by astute and technologically literate nurses and other health care professionals to create a sense of caring, presence, and individualized attention with clients, using eHealth tools.
While engaging with the virtual representation of a client, the health care provider must strive to envision and experience the client's three-dimensional body and being in order to accurately advise, assess, diagnose, and interact fully and dynamically. This perceiving ideally occurs within a virtual network environment, where both body-sense and body-awareness are combined with digital information. Not only the body, but also the person's inner being, including their mind must be acknowledged and somehow included.
Health professionals must ask themselves: "What are the psychological and emotional effects of being examined and assessed via a video camera? Is the sense of intimacy and privacy common in caring client-nurse interchanges lost in the virtual translation?"
Another critically important aspect of eHealth evolvement is the public use of the Internet for networking with health care providers and other members of the public. Essentially, this branch of eHealth is a client-centered Internet-based network where clients and health care providers collaborate through technological mediums to research, seek, manage, deliver, refer, arrange, and consult with others about health-related information and concerns.
Although eHealth developed from the telehealth network movement, it is a unique phenomena in two ways: networks and resources devoted to eHealth have developed on the Internet at an amazing rate over the past decade or so, and the emphasis is genuinely client focused. The phenomenal growth of eHealth cannot generally be credited to the health care system or health care professionals. Rather, individuals driven by the need and urge to become informed health consumers and participants have catalyzed this new style of networking, people who have learned to utilize ICTs in the form of the Internet to meet their health concern needs. Although statistics show that women are underrepresented in Internet usage, women tend to access the Internet more than men to seek health related information and networking. People from all walks of life, and all socioeconomic backgrounds have the potential to become effective eHealth users, despite age and gender. Nurses can facilitate this access and encourage meaningful engagement with eHealth resources.
Nurses can be primary actors in the virtual arena of eHealth serving as health advisors, Internet guides to help clients select reliable information resources, support group liaisons, web information providers, and so on. Nurses need to be involved in the design and implementation of eHealth portals and programs that provide the best possible eHealth experience for people: to do this, they need to build their eHealth competencies.
Ways to boost your eHealth competencies
A. Become engaged with your province's eHealth strategy/guidelines.
B. Follow Initiatives that support nursing competency in eHealth.
Canada Health Infoway 2016 Faculty Interprofessional eHealth Award
Faculty team members representing at least two of three Canadian schools of nursing, medicine or pharmacy can apply for this award – teams should apply by November 25, 2016.
https://www.infoway-inforoute.ca/en/component/edocman/2790-2016-faculty-interprofessional-ehealth-award-criteria/view-document
Nurses and eHealth Project from RNAO
"The mandate of the Nursing and eHealth Project, which is funded by eHealth Ontario, is to facilitate the nursing profession's involvement in the Ontario eHealth agenda and to support nurses to take a leadership role in the design, implementation, adoption and sustainability of integrated digital health systems (e.g. electronic medical records) in all health-care sectors and schools of nursing in Ontario" (RNAO, p. 1).
The ICN eHealth Programme
"The goals of the Programme are to support eHealth practice, to be recognized as an authority on eHealth, and to be positioned centrally in the eHealth Community. With policies and strategies applicable throughout the ICN pillars and programmes, the ICN eHealth programme seeks to advance nurses' knowledge of and involvement in eHealth worldwide." (ICN, p. 1).
http://www.icn.ch/what-we-do/ehealth/
Graphic
Nature graphic by Freepik from Flaticon is licensed under CC BY 3.0. Made with Logo Maker
Source
Kaminski, J. (2016). eHealth and Canadian nurses: Just getting acquainted. CJNI – Canadian Journal of Nursing Informatics, 11(3). http://cjni.net/journal/?p=4907