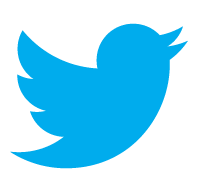 Twitter is considered one of the most popular social media platforms and offers an unusual micro-blogging approach to sharing with friends, colleagues, and other followers. The most unique aspect of Twitter is that it allows only 140 character posts. Thus, the writer needs to learn to share a thought, idea, event, resource, and so on in a concise yet meaningful way. It is perfect for sharing brief ideas, headlines that lead to a good resource, and sparking an idea that can be commented on in cryptic, brief ways.
Jack Dorsey first introduced Twitter to the world in 2006: since then, close to 600 million people have joined the "Twitaverse" sharing their posts or "Tweets" with other Tweeters. Tweets are very similar to text messages sent with mobile devices such as cell phones – they are also likened to the brief chirps of a bird, hence birds are often featured in Twitter logos and other images (such as the one above). Tweets are short and sweet, and to the point. Like messaging, certain shortcuts are used by Tweeters to cram as much content as possible into a Tweet and yet make sense. These shortcuts, such as hashtags (e.g. #informatics – that serve as a tag to collect all informatics related tweets); R/T (or retweets, meaning someone has forwarded someone else's Tweet) and @ tags (e.g. @OJNIJnl which directs the reader to someone else's Twitter account) provide links and other resources related to specific Tweets.
Twitter is used by individuals to communicate personally with others, but also by organizations and groups, such as hospitals, nursing organizations, and businesses. It has become a great way for businesses and institutions to present highlights that lead back to their websites, to make announcements and to encourage brief dialogues with followers. Nurses can learn to use Twitter in meaningful ways – to communicate directly with others, to point out resources, alert others to issues, and generally share news and insights. In this editorial, tips to help you to set up a Twitter personal account and also create a professional Twitter account to promote a cause, topic, issue or organization of your choice.
 PERSONAL TWITTER ACCOUNT
If you don't already have a Twitter account, create one at: http://twitter.com/
Think carefully about the "handle" you select, since this will reflect personally on you. You may choose to not use your entire name for some privacy protection, though usually your full name will appear under your selected handle. For instance, my personal Twitter site handle is "Junek" but my name "June Kaminski" is displayed above it.
Complete the brief Profile description, carefully choosing your text so that it professionally presents you to the Twitiverse, and fits into the fields (Twitter forces you to be concise in your personal description as well).
Select a background for your page, choosing one either from the Twitter library or uploading an image yourself (one that you own or have permission to use).
Some people get very creative with their backgrounds and create custom ones that suit their personality or organization. Also choose a personal profile image to act as the central logo of your Twitter account.
Now practice writing tweets by entering a maximum of 140 characters in your post on your personal page. Try to make these Tweets interesting and informative,
The final step is to become a follower of other Tweeters – so choose a few Tweeters to follow (search for "nurses" and so on to find relevant people to follow), Then, if you know other Tweeters, invite them to follow you. Otherwise, keep tweeting interesting content and you will, over time, develop a Tweeter follower base, just because of the substance of your posts.
PROFESSIONAL TWITTER PAGE
Now, follow the same steps as above and create a Topic, Group, or Organizational Twitter Page. If you choose the latter, make sure you have permission to represent the organization.
Begin to populate this Twitter account with relevant Tweets that professionally represent the organization, and follow other pertinent Tweeters (such as the suggested accounts below) that relate to the focus of your professional Twitter account.
Be sure to showcase your Twitter account on the organizational website (or your own site) to invite site visitors to follow your professional or personal Tweets. There are buttons available on the Twitter site to help you to do this.
NURSING TWITTER ACCOUNTS TO EXPLORE
Online Journal of Nursing Informatics – https://twitter.com/OJNIJnl
Canadian Journal of Nursing Informatics – https://twitter.com/CJNI_Journal
Nursing Informatics.com – https://twitter.com/NInformatics
American Nurses Association – https://twitter.com/ANANursingWorld
American Nursing Informatics Association – https://twitter.com/ANIAinformatics
HIMSS – https://twitter.com/HIMSS
SOURCE:
Kaminski, J. (2013). Twitter and Nurses: Tips for Tweeting. Online Journal of Nursing Informatics (OJNI),17 (2). Available at http://ojni.org/issues/?p=2661