By June Kaminski, RN MSN PhD(c)
Summer is often viewed as a time for more leisure, perhaps due to longer warm days, balmy evenings, and for some – vacation time. It is often a season where people look for good books to read to help to wile away the summer hours in a productive way. 2017 has been a prolific year for nursing informatics publications, which has enabled me to compile a hot-off-the-press list of suggested readings in this area.
Health Informatics: An Interprofessional Approach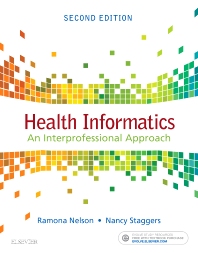 Two eminent informatics experts, Ramona Nelson and Nancy Staggers, published the first book on this suggested reading list in January 2017 for Mosby Publishing. This is actually the second edition of their well-respected book and offers insightful chapters that ground the reader in this ever-evolving field. As outlined by the publisher, "Concise coverage includes information systems and applications such as electronic health records, clinical decision support, telehealth, ePatients, and social media tools, as well as system implementation. New to this edition are topics including data science and analytics, mHealth, principles of project management, and contract negotiations".
The book is available as an e-book or paperback through Elsevier at:
https://www.elsevier.com/books/health-informatics/nelson/978-0-323-40231-6
or through popular merchant sites like Amazon.
Details for this book by Nelson and Staggers:
eBook ISBN: 9780323402279
eBook ISBN: 9780323402255
Paperback ISBN: 9780323402316
Imprint: Mosby
Published Date: 17th January 2017
Page Count: 678
Nursing Informatics And The Foundation Of Knowledge 4th Edition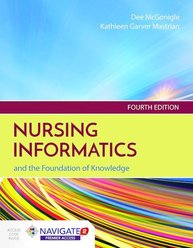 The second book on my recommended summer reading list is the fourth edition of an insightful book, by Dee McGonigle (founding OJNI Editor in Chief) and Kathleen Mastrian (our current OJNI Senior Managing Editor) for Jones and Barlett Publishing. I also wrote Chapter 3 of the book.
The book is a great choice for practicing nurses as well as nursing education. As the J&B Learning site describes, it "teaches nursing students the history of healthcare informatics, current issues, basic informatics concepts, and health information management applications. The text addresses basic through complex concepts to target the needs of the novice through innovator. The text takes the reader from the building blocks of informatics through complicated topics such as data mining, bioinformatics, and system development. The content is enhanced through its grounding in the Foundation of Knowledge Model founded by the authors".
This book is available as either an e-book (Kindle, Google Play, Vital Source) or as a paperback through J & B Learning at
http://www.jblearning.com/catalog/9781284121247/
It is also available on Amazon and other online vendors.
Details for this book by McGonigle and Mastrian:
Print Length: 606 pages
Publisher: Jones & Bartlett Learning; 4 edition (March 29, 2017)
ISBN-10: 1284121240
ISBN-13: 978-1284121247
            eText ISBN : 9781284142990, 128414299X     
Big Data-Enabled Nursing: Education, Research and Practice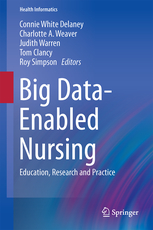 The third book on my summer list is due to be launched on July 22 of this year, is the first edition, and edited by five well-known informatics experts, Connie White Delaney, Charlotte A. Weaver, Judith Warren, Tom Clancy and Roy Simpson for Springer Publishing.
This book is timely since data analytics are beginning to impact the way we manage health-related data and information to optimize healthcare processes and move towards personalized health care.  As the Springer description details, "This text reflects how the learning health system infrastructure is maturing, and being advanced by health information exchanges (HIEs) with multiple organizations blending their data, or enabling distributed computing.  It educates the readers on the evolution of knowledge discovery methods that span qualitative as well as quantitative data mining, including the expanse of data visualization capacities, are enabling sophisticated discovery. New opportunities for nursing and call for new skills in research methodologies are being further enabled by new partnerships spanning all sectors".
The book by White Delaney, Weaver, Warren,  Clancy and Simpson is available as an e-book or hard cover book through Springer at:
http://www.springer.com/gp/book/9783319532998
It is also available on Amazon and other online vendors.
Product details

            Series: Health Informatics

            Hardcover: 504 pages

            Publisher: Springer; 1st ed. 2017 edition (July 22, 2017)

            ISBN-10: 3319532995

            ISBN-13: 978-3319532998           
Telehealth Nursing: Tools and Strategies for Optimal Patient Care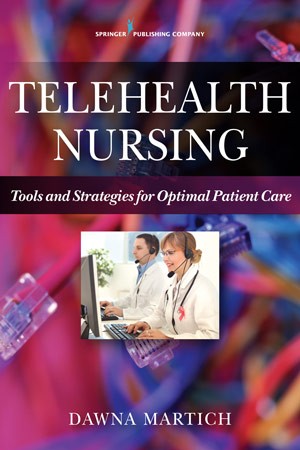 Dawna Martich, wrote the fourth recommended book for summer reading, also for Springer Publishing. Impressive aspects of this book include the theoretical yet practical approach. Background, context, and practical how-tos are a consistent feature across all 27 chapters. These chapters are clustered into four sections, with ready-to-use guidance on how to assess and care for clients through telehealth technologies. The book is available as a 410-page, 15.2 x 22.9 cm soft-cover book with access to a pdf sample chapter and overview.
The book by Martich is available as a paperback book through Springer Publishing at: http://www.springerpub.com/telehealth-nursing.html
It is also available in Kindle and paperback format through Amazon.
Product details

Paperback: 325 pages

Publisher: Springer Publishing Co., Inc.; 1st edition

ISBN-10: 0826132324

ISBN-13: 978-0826132321

             ASIN: B01HFZIWEI
So, there you have it – my recommended summer reading list. These four 2017 high- quality nursing informatics books are sure to expand your informatics knowledge and enhance your practice. Happy Reading!!
SOURCE:
Kaminski, J. (Summer, 2017).  Nursing Informatics Summer Readings Suggestions. Online Journal of Nursing Informatics (OJNI), 21(2).  Available at http://www.himss.org/ojni