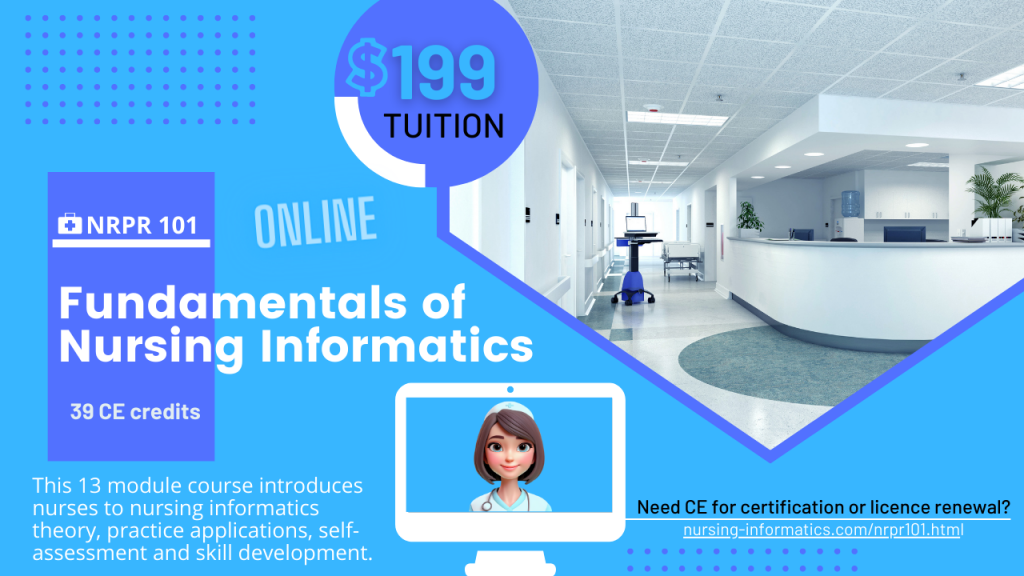 Overview
If you want to learn more about the ever-growing field of nursing informatics, consider taking NRPR 101: Fundamentals of Nursing Informatics.
This approved course (California Board of Nursing) can be used to meet certification and renewal requirements as well as State CE requirements.
This 13 module (39 CE credit) course introduces nurses or other health professionals to nursing informatics theory, practice applications, self-assessment and skill development for the future.
The course includes learning how computer technology is used for clinical documentation, communication, discharge planning, client education, telehealth, eHealth, expert systems, professional development, networking and project management.
This course is personalized, self-paced and taken entirely online in the privacy and comfort of your own home or office.
Objectives
This course is intended to provide the learner with the opportunity to:
Understand and apply theory related to computer-human interfaces, ethics, confidentiality and privacy, caring, ergonomics and nursing informatics to nursing practice.
Explore the dynamics of combining computer technology with nursing practice.
Apply principles of data and information documentation to selected computer applications.
Discuss the role of nurses in the evolution and implementation of eHealth, mHealth, decision support systems, and AI.
Practice client education development using selected computer applications.
Explore the use of computer technology for documentation, decision making, discharge planning, collaboration and networking.
Create a personal nursing informatics competency plan.
Analyze the role of nursing informaticians in system implementation, research, and project management.
Certificate
Upon completion, learners will receive a Board Approved Certificate of Completion for 39 CE credits in digital format.
Registration
Tuition is only $199 USD. Right now, during our sale you can take the course for only $119.40.
More information: https://nursing-informatics.com/nrpr101.html
Register Now: https://nursing-informatics.com/store/index.php?route=product/product&product_id=51