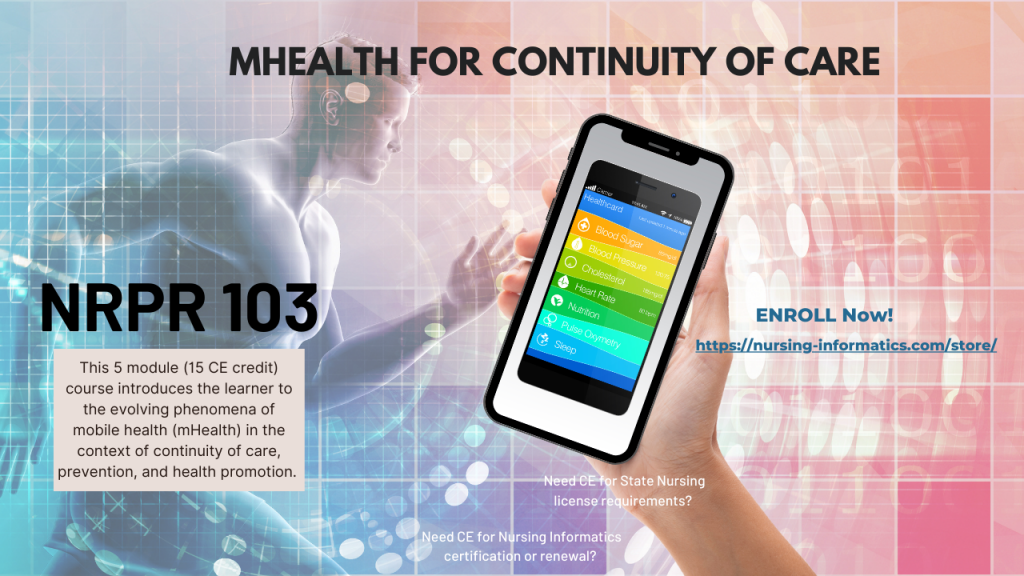 If you want to learn more about the important consumer-driven escalation in the use of mobile apps and devices in healthcare, consider taking NRPR 103: mHealth for Continuity of Care.
This 5 module (15 CE credit) course introduces the learner to the evolving phenomena of mobile health (mHealth) in the context of continuity of care, prevention, and health promotion.
The escalating use of mHealth in health care and lifestyle management is explored, grounded in the principles and theory of electronic health monitoring, networking, and mobile communications. The course is assessed using practical applications of principles and theory and an exploration of various mobile applications (apps) for lifestyle monitoring, access to information and teaching, support, and clinical communication.
Throughout the course, nurses are encouraged to explore and assess various mobile apps for value and utility in promoting continuity of care. This course is personalized, self-paced and taken entirely online in the privacy and comfort of your own home or office.
Objectives
Examine key principles of mHealth and the benefits for community of care.
Analyze theory and research related to mHealth in the context of lifestyle wellness, chronic health challenges, client education and clinical applications
Discuss how nurses can support mHealth use to strengthen nurse-client partnerships.
Apply principles of mHealth into nursing informatics theory and practice.
Certificate
Upon completion, learners will receive a Board Approved Certificate of Completion for 15 CE credits in digital format.
Registration
Tuition is only $99 USD. Right now, during our sale you can take the course for only $59.40.
More information: https://nursing-informatics.com/nrpr103.html
Register Now: https://nursing-informatics.com/store/index.php?route=product/product&product_id=53