Professional Portfolios: Spreadsheet Application
Overview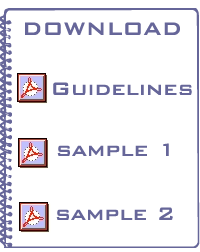 The concept of "portfolios" often means different things to different people. A portfolio generally refers to a collection of individual work samples which may include databases, essays, papers, drawings, photography, lab work, visual aids and other pieces kept together in one container to illustrate competency in a field. A portfolio provides students with a means to demonstrate what they know and can do in a comprehensive, integrated manner.
The process of maintaining a personal portfolio over the span of your education and future career is a vital and progressive one that can help you to recognize, organize and showcase vital pieces of your personal, academic, and career development. A portfolio also provides you with a place to gather evidence that you have met a wide range of standards for both education and practice. This ability is becoming very important with the widespread need for nurse competency assessment and the continued need for lifelong learning and the development and maintenance of employability skills.
Portfolios add a qualitative, student-centered aspect to a learner's work, providing concrete evidence of what exactly the student knows (Hebert, 1998). There are a number of different purposes for student portfolios. "Showcase portfolios, for example, celebrate the best work a student has done. Descriptive portfolios demonstrate what a student can do, but don't evaluate it. Evaluative portfolios are used for the sole purpose of assessing the quality of student work. And Progress portfolios show student work in a particular subject area--writing, for example--over time" (National Education Association of the United States, 1996, p. 17). There are also Professional portfolios, intended to provide evidence of professional capabilities and knowledge to potential employers and professional peers. A professional portfolio is a record of goals, growth, achievement, and professional attributes developed over time. For nurses, a professional portfolio is a thoughtfully organized collection of facts and artifacts that illustrate professional status and expertise, subject matter knowledge, knowledge of learning and health related processes, and professional and personal attributes that contribute to nursing.
Ends in View
This learning activity is intended to give the learner the opportunity to:
1. Recognize the benefits of beginning a professional portfolio during their nursing education.
2. Initiate the process of creating and maintaining a professional nursing portfolio.
3. Develop skill and competence in using computerized spreadsheet programs for tracking of professional practice experiences, competencies and strengths; as well as course grades.

In Preparation
1. If you own a home computer, check your programs to see if you own a spreadsheet program.
The most common are Microsoft's Excel; Open Office's CALC; Corel's Quattro Pro; and Lotus 1-2-3. If you do, write down the version number, for instance Excel 365. Bring this information to class.
2. If you do not own a home computer, go to the computer facility room or lab that you usually use on campus, and find out what spread sheet programs are available there. You should be able to locate Microsoft Excel 365.
3. READ: Davis, C. (2015). Developing a professional nursing portfolio. Nursing Made Incredibly Easy! 13 (1), p. 4. doi: 10.1097/01.NME.0000457285.39465.5c
4. BROWSE: Excel 365 Tutorials by Microsoft. https://support.microsoft.com/en-us/excel
In Practice
1. Download the spreadsheet guidelines for your Portfolio Development to help you to design the two spreadsheets in this assignment.
2. Download the Theory Grade Portfolio Example and the Clinical Placement Portfolio Example to also guide you as you create two personal spreadsheets to track a) grades and b) practice related information for inclusion in your professional portfolio. Create the two spreadsheets and save in a handy place on your computer so that you can add both your theory grades and clinical placement information as you progress through the four years of the program. Also, print out a copy of both sheets to use as a rough copy, so you can keep notes on them and later type them into your electronic versions. These sheets will need to be reduced to about 80% in order to show all information width wise on the page.
3. Create a plan for your own unique portfolio for continual updating and refinement throughout your entire nursing education.
In Reflection
1. Consider how using a professional portfolio will prepare you for future career recruitment and finding the right job for you.
2. How does planning a portfolio help you to recognize your personal strengths and learning needs?
3. Does setting personal goals for learning affect your view of your nursing education? If so, how?
References
Hebert, E. A. (1998). Lessons learned about student portfolios. Phi Delta Kappan, 79 (8), April, p. 583 - 585.
National Education Association of the United States. (1996). The latest on student portfolios. NEA Today, 15 (3), November, p. 17.
Stockhausen, L. J. (1997). The Clinical Portfolio. The Australian Electronic Journal of Nursing Education, 2 (2), p. 1-12. ISSN: 1322-8676
NEXT: SEMESTER 3 NURSING INFORMATICS LEARNING ACTIVITY....

.