Reaching for the critical mass: Online Communities of Practice for global health and knowledge networking
by © 2012 ~ June Kaminski, RN MSN PhD(c) & Amandah Hoogbruin, RN PhD
Presented at Xi Eta Chapter, Sigma Theta Tau International 17th Annual Ethel Johns Forum - Feb 4th, 2012, St. Paul's Hospital, Vancouver, BC.
BACKGROUND
"Communities of practice are groups of people who share a concern or a passion for something they do and learn how to do it better as they interact regularly." (Etienne Wenger)
Communities of Practice - the term is new, but the practice is not. For Example: Groups of artists met in studios, cafes, homes to discuss and share techniques, theory, their work e.g. the Pre- Raphaelite Brotherhood (1848 – 1860) and the Impressionist Group (1870-1882).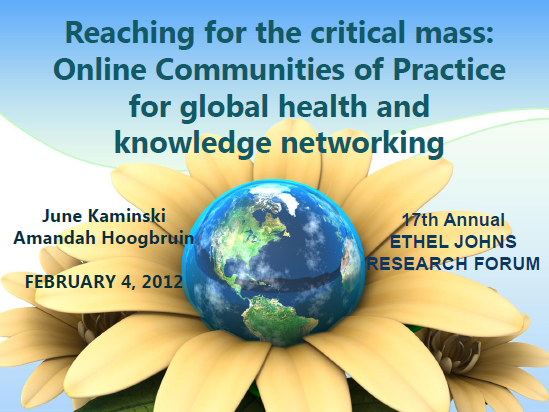 View PPT as PDF
49 slides, 2.4 MB
Etienne Wenger popularized the term Community of Practice and listed three key characteristics:
☸ DOMAIN – A CoP has an identity defined by a shared domain of interest, e.g. Art or Nursing.
☸ COMMUNITY – CoP members meet to share expertise, engage in discussion and activities, help each other, develop, brainstorm, build ties, interact and learn together.
☸ PRACTICE – CoP members are practitioners. They develop a shared repertoire of resources, experiences, stories, tools: a shared practice.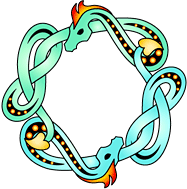 View Full Presentation Page