I was honoured to participate in the First Atlantic Nursing Informatics Conference held in Halifax this past week, October 1st to 3rd, 2008. It was organized by the Nova Scotia Nursing Informatics Group with help from groups in New Brunswick and members from PEI.
The Conference itself was superbly organized - I was very impressed! It provided both a professional yet relaxed atmosphere for Canadian Nursing informatics enthusiasts to come together to learn, share and network.
I was honoured to provide one of the Pre-Conference workshops, entitled
Nursing Informatics 101
(click to view the PPT) as well as provide the Final address, focusing on
A National Perspective of Nursing Informatics.
Another Pre-Conference workshop plus the Keynote address was delivered by change expert, Dr. Dawn Marie Turner. Other presenters included: Peggy White, Theresa Fillatre, Sandra Allan, Cathy Berkvens, Steven Soroka, Shauna McMahon, Wendy Martin, Jackie MacDonald, Priscella Sharky, Pearl Murphy, and Margaret Duffy.
I was also impressed with the city of Halifax. The richness of the colonial history in this city is astounding - and they deserve credit for preserving so much of their unique history. The city was celebrating their 250th birthday during our stay, and I saw dozens of locals dressed in what looked like authentic historical costume and regalia.
I am sure the NSNIG will be posting highlights on their website at:
http://www.nsnig.ca/
. You can view a
copy of the program HERE.
Special kudos to Nancy McCara for spearheading the Conference planning and organization. She did a tremendous job!
(click image for larger view)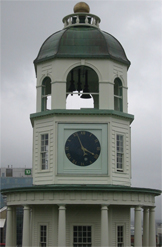 Bell Tower Clock in Halifax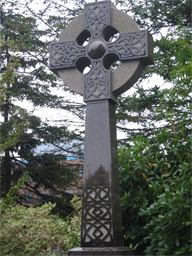 Celtic Cross Memorial in Halifax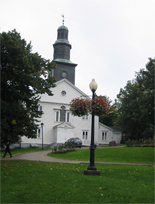 St Paul's Anglican Church in Halifax